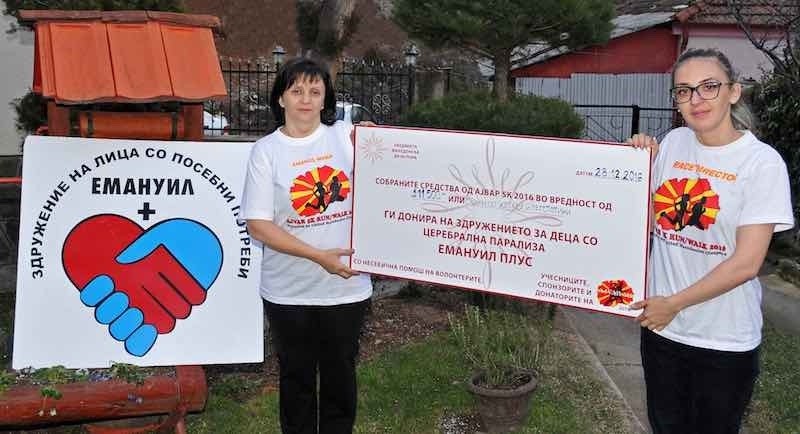 In holiday spirits, the United Macedonian Diaspora (UMD) is pleased to announce a $11,500 donation of proceeds collected from the 2016 Ajvar 5K races held in Detroit, Michigan (see note at bottom), Washington, D.C., Garfield, New Jersey, Columbus, Ohio, and Los Angeles, California.
This year's Ajvar 5K's beneficiary was Emanuil Plus, a Bitola, Macedonia-based organization providing help and services to 16-children with cerebral palsy and epilepsy.
Nearly 500 people, over 60 sponsors and donors, and dozens of volunteers made the 2016 Ajvar 5Ks a great success and community and family-friendly gathering for a great cause. We are most grateful for the generous support received from our Ajvar 5K sponsors and donors, participants, race directors, and volunteers – their support significantly impacted and will improve the quality of life for these children and their families.
On December 28, 2016, UMD's New Jersey Regional Representative and Ajvar 5K Project Coordinator Ana Dukoska, who is in Macedonia for the holidays, visited Bitola, and presented the $11,500 check to Emanuil Plus President Beti Bulakovska.
"I cannot find adequate words to express my appreciation and that of all members of Emanuil Plus. Thank you to the organizers and to all who participated in Ajvar 5K some way. Your commitment and attention to these children is already making a significant difference in their lives," said Bulakovska.
Over the course of two days, Dukoska met with all children of the organization and delivered aid packages to each family, including Christmas gift bags for each child. The packages included winter blanket, pillow and bedding, pajamas, tracksuits, set of 3 T-shirts, underwear, towels, socks, toiletries, vouchers for food products and a voucher for diapers.
"It was extremely moving for me to have the honor to meet Emanuil Plus' President, all children serviced by the organization, and their families. Getting to know their incredibly unique life stories and challenges and the warm welcome I received from the children with a smile and hug was just amazing and brought tears to my eyes," said Dukoska. "Our work does not end here; currently, we are working to secure physiotherapy and orthopedic shoes for each child."
The Detroit Ajvar 5K, in partnership with the United Macedonian-Americans of Detroit, the Macedonian American Student Associations of Michigan, and UMD's young leaders program, Generation M, raised $8,500, which will aid the Center for Infants in Bitola, and Macedonia.