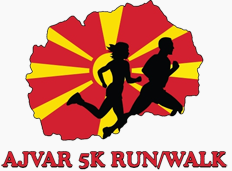 This year, the United Macedonian Diaspora (UMD) is pleased to announce that Ajvar 5K Charity Run/Walk will be held in Los Angeles, California; Washington, D.C.; Garfield, New Jersey; Miami, Florida; Columbus, Ohio; Detroit, Michigan; and Toronto, Canada.
The Detroit event, in partnership with the United Macedonian-Americans of Detroit and UMD's young leaders program Generation M, will take place on September 25, 2016 at Stoney Creek Metropark.
Ajvar 5K D.C. will take place at Bluemont Park in Arlington, Virgina on October 8, 2016.
The dates and locations for the Los Angeles, Garfield, Columbus, Miami, and Toronto events are to be announced shortly.
Ajvar 5K Run/Walk is an event that celebrates the joy of living, the fun of running and walking, the importance of making new friends and cherishing old ones, and also to remember and honor Macedonia's beautiful heritage. Join us in helping those in need in Macedonia. Ajvar 5K Run/Walk is an opportunity for everyone to get active and meet the wider Macedonian and friends of Macedonia community while giving back to Macedonia.
The Detroit, MI event proceeds will go towards the Public Institution - Home for Infants and Young Children – Bitola, which provides needed nutrition an agricultural products to families with young children and infants.
The Garfield, NJ; Los Angeles, CA; Miami, FL; Columbus, OH; Washington, D.C.; and Toronto events will be donating proceeds to help provide medication and physical therapy to children with cerebral palsy and epilepsy in Bitola, Macedonia through Emanuil Plus.