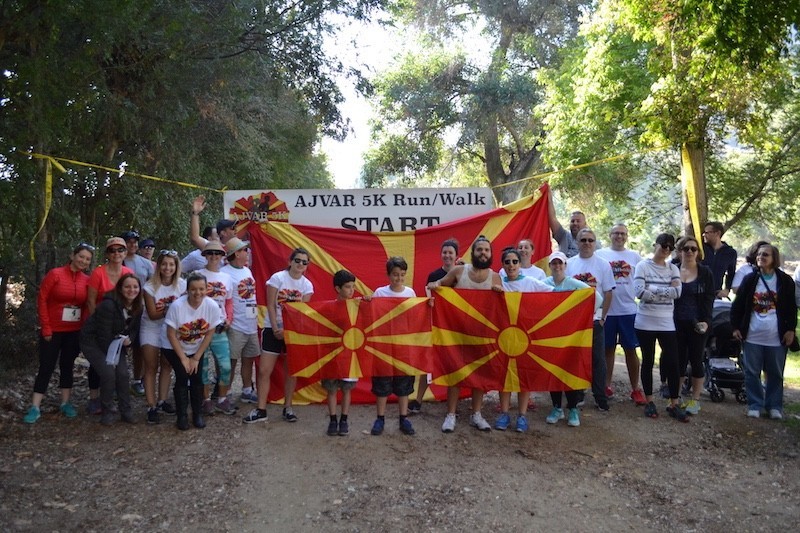 On Sunday, November 6, 2016, in Los Angeles, California the local Macedonian community and friends of Macedonia united and participated in the first annual Ajvar 5K race at Griffith Park. Over 50 participants and 20 different sponsors and donors partook in the race to support the fundraising for children in needs in Macedonia.
The proceeds of this event will benefit Emanuil Plus, an organization in Bitola, Macedonia, that provides support for children with cerebral palsy, epilepsy and other neurological difficulties. The funds raised will go a long way in helping the children and their families.
Special gratitude to our sponsors, (Title Sponsors) Mama's Traditional Recipes, KB Delta Mfg and Sun Freedom Solar; (Golden Sponsors) Imperial Tile & Stone; (Bronze Sponsors) Niagara Bottling, Speedmaster, North American Athletic Club, Costco, our donors and participants.
CONGRATULATIONS to our race winners!
WOMEN:
1st Stefanie Turner - 26:25
2nd Lidija Knjazeva - 26:45
3rd Snezana Carovski - 31:50
MEN:
1st Aleksandar Achan - 26:38
2nd Nick Carovski - 31:50
3rd Carlos Bedolla - 33:15
On behalf of the entire Ajvar 5K Los Angeles, thank you very much to all who ran, walked, donated, sponsored, and in any way supported this amazing event. Without your commitment this event would not have been possible. It was truly amazing to see the community come together to create positive change for those in need.
We are looking forward to planning future events that will continue to inform, support, and unite Macedonians around the globe.
By: Marija Malinovska – Los Angeles, CA UMD Regional Representative and Ajvar5K Race Director